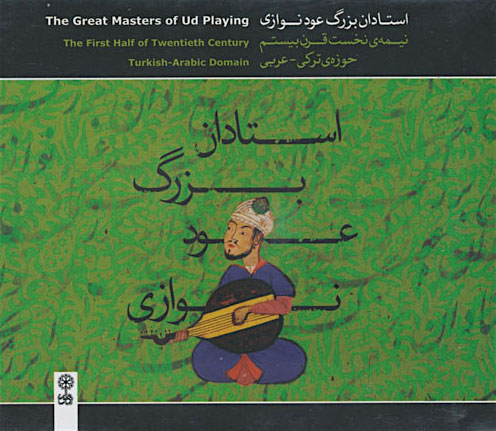 アラブ~トルコの偉大なウード奏者たちの演奏を辿る2枚組!
アルバムには録音年の表記はありません(ペルシャ語では記載されているかも知れませんが、如何せん読めないので)が、音質から判断すると、SP時代のものであることは確かだと思います。ということは、1910年あたりから1950年代までの録音と思われます。現代の奏者に比べると、どの演奏も野趣溢れ力強いのに驚かされます。録音によっては、ノイズがかなり残っているものもありますが、予めご了承ください。
中東から北アフリカにかけてのアラブ音楽文化圏で最も重要な楽器の1つ、ウード(リュート属の撥弦楽器)の、演奏技術と芸術性から選ばれた巨匠達の演奏をたっぷりとお聞きいただける2枚組アルバムです。収録されている国と演奏者は以下の通り。
ディスク1:①~⑩トルコ(Şerif Muhiddin Targan、Yorgo Bacanos、Misirli Ebrâhim Afendi)、⑪~⑱イラク(Jamil Bachir、Monir Bashir)、⑲シリア(Omar Naqshbandi)。ディスク2:①~②シリア(Omar Naqshbandi)、③~⑪エジプト(Mohamed Qasabgi,、Riad el-Sounbati,、Farid el-Atresh)、⑫~⑬チュニジア(Ahmed el-Kalaï, Tâher Gharsa)、⑭アルジェリア(Sheikh Salim Farjani)。
〜サプライヤーインフォより
Introduction
In this collection, owing to the huge number of styles and instrumentalists (i.e. ud-players), we have had to include only the performances of the leading countries in the ud-playing which enjoyed a greater influence in terms of technique and musical content. In this regard in terms of the standardization of modern techniques and fingering methods, which date back to early twentieth century, Turkey contributed more largely than other countries due to the emergence of Şerif Muhiddin Targan (Heydar) whose genius, as a teacher and player, is indisputable.
To select the works of this collection, playing features and specifications both in terms of technique and musical content have been taken into account. All instrumentalists of this collection have been more or less contemporary with each other covering two generations, i.e. they were born between late 19th century until mid 20th century (1892-1953).
The players in this collection are: Şerif Mohiddin Targan, Yorgo Bacanos, Misirli Ebrâhim Afendi, Jamil Bashir, Monir Bashir, Omar Naqshbandi, Mohamed Qasabgi, Riad el-Sounbati, Farid el-Atresh, Ahmed el-Kalaï, Tâher Gharsa, Sheikh Salim Farjani. The CD's booklet is written and collected by Sa'id Nâyeb-Mohammadi.