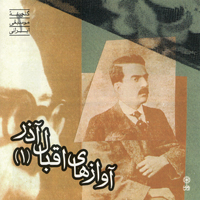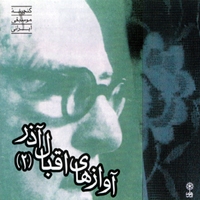 古き良きペルシャ古典声楽の名歌手=エグバル・アザール、う~ん、素晴らしいですね!1866年生まれということですが、105歳まで生きた人だということです。う~ん、長生きですね!19世紀には既に名歌手として誉れ高かったということですから、さぞかし古典古典した歌唱なんだろうなあ、と思ったら大間違いですね。どちらかと言えば、昨今の古典歌手を代表するシャジャリアンや、パリーサなんかの方が、いかにも古典っぽい感じかも知れません…。古くはササン朝ペルシャ(3~7世紀)の時代には既に確立されていたとされるペルシャ音楽ですが、19世紀には19世紀、20世紀には20世紀の変化があったことは当然、だからこそ、今日でも綿々と受け継がれて来たわけで、その意味では、このエグバル・アザールの録音、最初から最後までタハリール唱法全開!おいしいところを、バッチリ聴かせてくれて、大仰にかまえたところや、長ったらしい前奏や間奏もなし、もったいぶったところがありません。古典音楽、というより、ずばぬけて歌のうまい歌手が披露した親しみやすい民謡/大衆歌謡という感じですね…。もちろん古い録音ですから、音は悪いんですが、この歌声、ともかく素晴らしい!
Abolhassan Eqbal-Azar (Eqbalossoltan) was born in a village called Alvand, 6 kilometers from the city of Qazvin in the northwest of Iran. The exact date of his birth is under question; it was probably some time in 1866. His father, Molla Musa, was one of the teachers in Haj Molla Salleh Qazvini Seminary. Unlike most seminary teachers, he made a living not by teaching but by working on his farm after school hours. Young Eqbal lost his father when he was only seven and had to move to the city of Qazvin with his family.
Eager to learn more, Eqbal took lessons from Haji Molla Karim Qazvini, one of the vocalists in Nasseredin Shah's house. As a result, the young student soon mastered the different radifs of Persian music.
Upon his acquaintance with Darvish Khan and the other musicians of his day, Eqbal took a trip to Tblisi to produce a record and give a live performance. He was accompanied by Darvish Khan (tar), Baqer Khan Rameshgar (kamancheh), Seyed Hoseyn Taherzadeh (vocals) and Abdolah Davami (tasnif and carb).
▽ 2011 released "Songs of Eqbal Azar 3" & "Songs of Eqbal Azar 4" vol.3のみ〜再入荷待ち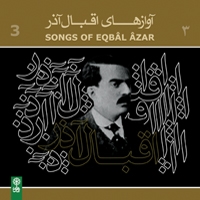 Abolhasan Eqbal Azar was one of the greatest Iranian Singers, and three other CDs of his singings were released by Mahoor Institute of Culture and Art. This collection includes some unpublished pieces which were recorded during various periods of his life. The frist eleven tracks are recorded in the trip to Tbilisi with Darvish Khan, Baqer Khan, Taherzade and Abdollah Davami. The next 6 tracks are his singing with kamanche playing of Messiuer Haik which are all sung in Turkish. The 18th and 19th pieces are from two records with Shahnazi Orchestra and the last two pieces are recorded at a radio programme in the last years of his life.