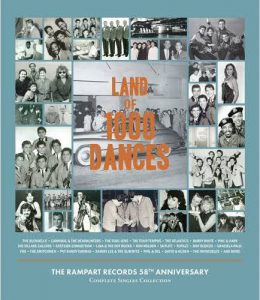 イースト・ロサンゼルスのモータウンとも言われたレーベル、ランパート・レコードの58周年を記念して作成された全シングル録音コレクション。ドゥーワップから始まり、R&B、ファンク、ラテン・ロック、ディスコなど、チカーノたちを中心に60~70年代のバリオで起きていた音楽変遷を俯瞰するような大変貴重な音源と解説は圧巻。解説には、ロサンゼルスを代表するチカーノ作家、ルイス・J・ロドリゲスも参加。貧しいバリオのなかで花開いた音楽鉱脈を、自らの体験を盛り込んでまとめている。またビートルズの全米ツアーに参加したカンニバル・アンド・ザ・ヘッドハンターズの記事には、ビートルズやバックバンドを務めた名サックス奏者、キング・カーティスらとのオフ・ステージでの貴重な写真も満載。現地カリフォルニアだけでなく世界的にも注目が集まる「チカーノ・ソウル」のルーツの一遍を記録した大変貴重な作品。限定1000部。(サプライヤーインフォより)
Something musically vital was happening in East Los Angeles when all-around entertainment guru Eddie Davis Rampart Records documented the fusion that became the West Coast Eastside Sound. Founded in 1961, Rampart Records is now celebrating its 58th anniversary with this box set collection. Rampart produced music unlike any otherrock & roll and rhythm and blues, but with a Mexican twist. The singles on this collection are from Ramparts first 17 years, as the sounds changed from doo wop to R&B to garage to funk to disco. Hear East LAs greatest hits from the West Coasts longest running independent record company. Discover the amazing history and super-fine music from the classic Rampart Records catalogue, still going strong after 58 years!
Among the gems heard on Land Of 1000 Dances is Hector Parts 1 & 2, a double-barreled, organ-driven instrumental by The Village Callers, which was heard on the soundtrack to Once Upon a TimeIn Hollywood, Quentin Tarantinos hit summer film starring Leonardo DiCaprio and Brad Pitt.
Other top-flight Rampart acts surveyed include the storming, horn-driven garage soul unit The Blendells, whose cover of Stevie Wonders single La La La La La is a crate digger classic; R&B foursome The Atlantics, whose lineup included future 70s love man Barry White; soul balladeer Ron Holden; The Soul-jers, the military-garbed duo of former Mixtures vocalists Philip Tucker and Delbert Franklin; Motown-styled vocal quartet The Four Tempos; Latin songstresses Didi Scorzo and Graciela Palafox; and funk / disco pioneers Eastside Connection.
Hector Gonzalez, bassist of Eastside Connection, has overseen Ramparts assets since Eddie Davis death in 1994 and co-produced Land Of 1000 Dances with Michael Minky.(〜メーカーインフォより)詳しくは後刻