★Anthology of The Strings Bass 1915-1941
★Description: Three CDs, 96 page book, Cardboard box
Publication Date: November 21, 2006
Recognition: Jazz Journalists Association Jazz Awards – 2008 Nominated for Reissue/Historical Box Set of the Year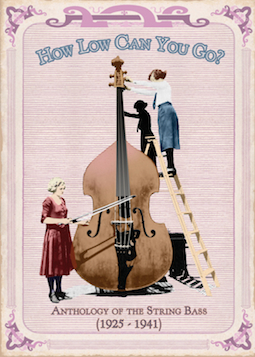 Compiled by Lance Ledbetter and Dick Spottswood, this three-CD box set, the first ever anthology of the upright bass, explores the earliest recorded history of the instrument. Without it, the revolutionary sound of American mongrel music of the last century would have been thin gruel indeed.
Not so long ago, the string bass stood tall and proud — roughly the length and breadth of a poor man's pine coffin — in every musical aggregation throughout the land from Bangor to Buenos Aires, from the highest high life to the lowest lowdown: From tuxedoed symphony ensembles to tipsy calypso bands to honkytonkers in oil-field dives, from elegantly gelled tango orchestras to jazz combos in unspeakable speak-easys to methed-out rockabilly trios right off some flatbed.
Bass Player Magazine: "Few releases are as special and fun as this new 3 CD set, which uncovers the origins of recorded upright bass."
New York Times: "Tuning into the bass with this particular sequence of records can clear up one of the most elusive qualities of early jazz: its deep relationship to all this other new-world music. In four tracks between 1929 and 1932, for example, we hear the bassist Al Morgan with the Trinidadian bandleaders Wilmoth Houdini and Lionel Belasco; we also hear him in New Orleans and Harlem jazz groups. His rhythmic vocabulary and relationship to the beat is much the same. This was how cross-pollination worked. If this particular light bulb hasn't gone on for you before, it will now."
(メーカーインフォより)
CD 1 / 1925-1930
1 Ted Lewis And His Band– Milenburg Joys 2:51
2 Jean Goldkette And His Orchestra– Dinah 3:06
3 Jelly-Roll Morton And His Red Hot Peppers– Black Bottom Stomp 3:13
4 Jean Goldkette And His Orchestra– My Pretty Girl 2:42
5 Bobbie Leecan's Need-More Band– Wash-Board Cut Out 2:57
6 Sam Morgan's Jazz Band– Bogalusa Strut 2:59
7 Sam Morgan's Jazz Band– Down By The Riverside 3:12
8 Charles Pierce And His Orchestra– Bull Frog Blues 2:54
9 Charles Pierce And His Orchestra– China Boy 2:23
10 Thelma Terry And Her Playboys– Voice Of The Southland 2:36
11 Thelma Terry And Her Playboys– Mama's Gone, Goodbye 3:10
12 Halfway House Dance Orchestra– I'd Like To Go Back To That Old Pal Of Mine 2:59
13 Mart Britt And His Orchestra– Goose Creek-Stomp 2:40
14 Jimmie Rodgers– Waiting For A Train 2:49
15 Frenchy's String Band– Texas And Pacific Blues 3:08
16 Dallas String Band With Coley Jones– So Tired 3:18
17 Joe Turner And His Memphis Men– Freeze And Melt 2:54
18 Ed Lang And His Orchestra– Hot Heels 3:02
19 Sonny Greer And His Memphis Men– Beggar's Blues 3:20
20 Taylor-Griggs Louisiana Melody Makers– Where The Sweet Magnolias Bloom 2:41
21 L'Orchestre Antillais– En Sens Unique S.V.P. 2:28
22 Walter Page And His Original Blue Devils– Squabblin' 3:04
23 Jones And Collins Astoria Hot Eight– Duet Stomp 2:55
24 Luis Russell And His Orchestra– Poor Li'l Me 3:23
25 Luis Russell And His Orchestra– Panama 3:18
26 Fletcher Henderson And His Orchestra– Chinatown, My Chinatown 3:01
CD 2  / 1931-1941
1 Jack Teagarden & His Orchestra– Chances Are 3:13
2 Wilmoth Houdini– Tiger Tom Kill Tiger Cat, Damblay, Santapie And Rat 2:46
3 Lionel Belasco And His Orchestra– Depression-Paseo 2:54
4 Harlem Hot Shots– Who's Sorry Now? 3:03
5 New Orleans Feetwarmers– Shag 3:06
6 Eddie South And His Orchestra– My! Oh, My! 3:06
7 Dicky Wells' Shim Shammers– Baby, Are You Satisfied 3:30
8 Prairie Ramblers– Tex's Dance 2:34
9 Milton Brown And His Musical Brownies– Brownie's Stomp 2:56
10 Henry Allen And His Orchestra– Rug Cutter Swing 2:41
11 Eva Taylor And Her Boy Friends– The Stuff Is Here And It's Mellow 2:35
12 Andy Iona And His Islanders– Ta-Hu-Wa-Hu-Wa-I (A Hawaiian War Song) 2:44
13 The Spirits Of Rhythm– Dr. Watson And Mr. Holmes 2:33
14 Candy And Coco– Bugle Call Rag (Take B) 2:56
15 Carl Martin– Good Morning, Judge 2:51
16 State Street Boys – The Dozen 3:04
17 Washboard Sam– Don't 'Low 3:11
18 Lil Johnson– Rug Cutter's Function 3:09
19 Roy Acuff And His Crazy Tennesseeans– Yes Sir, That's My Baby 2:50
20 Don Albert And His Orchestra– Deep Blue Melody 3:05
21 Bob Wills And His Texas Playboys– White Heat 2:44
22 The Crystal Springs Ramblers– Tired Of Me 2:31
23 The Kansas City Six– Pagin' The Devil 2:57
24 Bob Wills And His Texas Playboys– Liza, Pull Down The Shades 2:18
25 Cab Calloway And His Orchestra– Pluckin' The Bass 2:43
26 Jelly-Roll Morton's New Orleans Jazzmen– Climax Rag (Take 1) 2:28
27 Duke Ellington And His Famous Orchestra– Sepia Panorama (AKA Night House) 2:43
CD 3 / Bill Johnson
1 Dixie Four– Kentucky Stomp 2:26
2 Dixie Four– Saint Louis Man 2:28
3 State Street Ramblers– Endurance Stomp 2:48
4 State Street Ramblers– Tuxedo Stomp 3:00
5 State Street Ramblers– Brown Skin Mama 2:42
6 State Street Ramblers– St. Louis Nightmare 2:58
7 State Street Ramblers– Tell Me Cutie 2:49
8 State Street Ramblers– Some Day You'll Know 2:48
9 Junie C. Cobb And His Grains Of Corn– Endurance Stomp (Take A) 2:35
10 The Midnight Rounders– Shake Your Shimmy 3:04
11 The Midnight Rounders– Bull Fiddle Rag (Take A) 3:26
12 Junie C. Cobb And His Grains Of Corn– Shake That Jelly Roll 2:59
13 Junie C. Cobb And His Grains Of Corn– Don't Cry, Honey 3:17
14 "Banjo" Ikey Robinson And His Bull Fiddle Band– My Four Reasons 2:54
15 Rev. D.C. Rice And His Sanctified Congregation– He's Got His Eyes On You 2:56
16 Rev. D.C. Rice And His Sanctified Congregation– I'm In The Battle Field For My Lord 3:17
17 Cotton Top Mountain Sanctified Singers– She's Coming 'Round The Mountain 2:57
18 Rev. D.C. Rice And His Sanctified Congregation– I'm Pressing On 2:50
19 Rev. D.C. Rice And His Sanctified Congregation– No Night There 3:03
20 Chippie Hill– I Ain't Gonna Do It No More 2:50
21 Chippie Hill– Pratt City Blues 2:46
22 Bill Johnson's Louisiana Jug Band– Get The "L" On Down The Road 2:58
23 Bill Johnson's Louisiana Jug Band– Don't Drink It In Here 2:53
24 Tampa Red's Hokum Jug Band– I Wonder Where My Easy Rider's Gone 2:49
25 Tampa Red's Hokum Jug Band– Come On Mama Do That Dance 2:51
26 The Midnight Rounders– Bull Fiddle Rag (Take B) 3:07