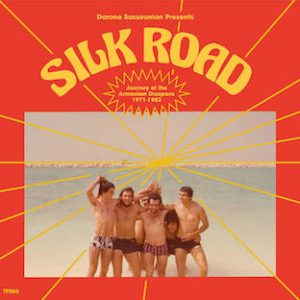 A1. Marten Yorgantz – Ammenaïn Serdov (With All My Heart)
A2. Adiss Harmandyan – Ors Kez Hed Antzav (My Day Spent)
A3. Jozeph Sefian – Karoun E Yegel (Spring Has Come)
B1. Avo Haroutiounian – Tears On My Eyes
B2. Jozeph Sefian – Sev Sev Achair (Black Black Eyes)
B3. Harout Pamboukjian – Taparoum Enk (We_re Wandering)
B4. Eddy Jeghelian – Im Sireli Ashdarag (My Dear Ashdarag)
IMPORTANT: This release is by our friends from Rocky Hill. The compilation features a lot of the records that also intrigued me when I found them in Beirut, which is a great place to learn about Armenian music and it's crossroads with Arabic music. We like the release so much that we figured it would be a good idea to make it available in our shop too. We only sell vinyl copies of it, if you wanna buy a digital copy you have to head to Rocky Hill or the digital download shop of your choice.
"A decade of Armenian disco, funk, and soul, compiled by Darone Sassounian who spent three years tracking down the records and artists; fulfilling a calling to lift his people's voice, a people that have always faced the threat of erasure. The music was made a generation after the Armenian Genocide, a testament to perseverance. The seven tracks featured are incredibly inventive and unique in their interpretations of these Western seventies sounds. This compilation comes at an urgent time as 2020 set the stage for Azerbaijan and Turkey to perpetuate genocidal rhetoric as they invaded Armenian borders and bombed civilian cities eventually resulting in the loss of lives and land stewarded for millennia. All while the western world paid little notice. It is with great gratitude and purpose that Terrestrial Funk rebirths this music and uplifts the voice of the Armenian Diaspora."
Compiled and Curated by Darone Sassounian
Remastered by Johanz Westerman
〜以上、メーカーインフォより