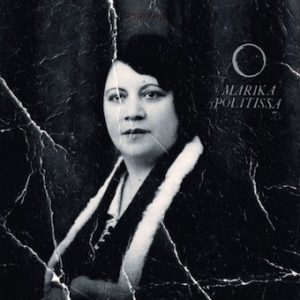 1.Niavent manes 03:32
2.I Kammomatou 03:14
3.Matzore manes 03:15
4.Den me toumbaris 03:12
5.Ola ta meri skoteina 03:07
6.S'ena glenti ta mplexa 03:17
7.Arnaki 03:01
8.Peismatariko 03:10
9.Tzivaeri manes 03:21
10.Moustaar manes 03:14
11.Rast manes 03:28
12.Nini manes 03:02
Marika "Politissa" Frantzeskopoulou was a Greek singer from Constantinople, reknowned for her precise, fluid and graceful performances and depth of feeling. Backed by some of the best musicians of the era on lyra, violin, oud, kanonaki and guitar, Marika's repertoire and techniques drew from Byzantine and Ottoman musical traditions. She possessed an ability to devastate her audience through her expressions of grief, exile, and tragic love, running the gamut of cafe aman, torch songs, lilting and fragile odes to heartache, heavy Piraeus style rebetika, and ecstatic Near-Eastern climaxes, all with a visceral sense of atmosphere, emotion, and fatalism. Marika's voice is complimented beautifully by her backing musicians, creating a pulsing acoustic foundation over which her voice soars with clarity and purpose.
LP version includes a 12 page color booklet with rare photographs, full lyrics, and extensive notes (Bandcamp version includes booklet in PDF format). Produced in collaboration with Tony Klein (Greek Rhapsody, Mortika) and Stavros Kourousis (From Tambouras to Bouzouki) and co-released by Olvido Records (A. Kostis, Alexis Zoumbas).
〜メーカーインフォより