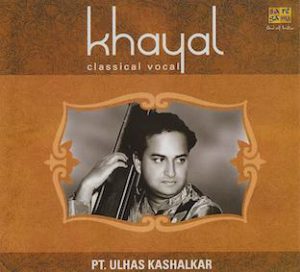 1.Raga-Khokar(1993) 15:24
Khayal Jhaptall- "Anand Mukh Chandra"
2.Raga-Jaitashree(1993) 14:22
Khayal Teentaal- " Jab te Piyu"
3.Raga-Lalita Gauri(1993) 14:25
Khayal Teentaal – "Pritam Saiyyan"
4.Raga-Raat Ki Gunkali(1993) 11:26
Khayal Teentaal – "Mohe Let Hai
〜About the CD
With a blessed voice and the gifted ability to blend the three gayakees with authenticity and aesthetic excellence, he soon emerged to be one of the most formidable vocalists of the country. While his music remains well within the confines of tradition, the listener revels in an experience of listening to a seemingly new gayakee.
Widely regarded as the musicians musician Ulhas Kashalkar is the leading vocalist of the current generation. No matter where he performs, he is received with great enthusiasm because of his gifted ability to capture the hearts and imagination of the music lovers.
Ulhasji is one of the most sought after artistes, both in India and in several other countries. The number of record companies that have released his music world over is a reiteration of his popularity.
Ulhas ji is the recipient of several awards such as the Sangeet Natak Akademi Award, Jadubhatta Puraskar and Swar-Ratna Award and has been conferred with titles such as Raag Rishi.
For over a decade now, he has been with the ITC Sangeet Research Academy, Kolkata, as a Guru, producing numerous students of high caliber.
A torchbearer of Indias pristine tradition, Pt. Ulhas Kashalkar continues to enthrall and take his audiences on an ecstatic journey through his music.
About the Ragas:
Pt. Ulhas Kashalkars gayakee is the blend of 3 gharanas, the Gwalior, Jaipur & Agra Gharanas. This album showcases his musical prowess over the Jaipur Gharana.
The album opens with a Khayal in Jhaptaal in the rare raga Khokar, a distinct raga of the Jaipur Gharana. This is followed by 2 Khayals in Jaitashree & Lalita Gauri ragas, which again have the traditional flavour of the Jaipur Gharana. The album concludes with the melodic raga Raat ki Gunkali.
Khayal is a contemporary popular form of Hindu
〜メーカーインフォより