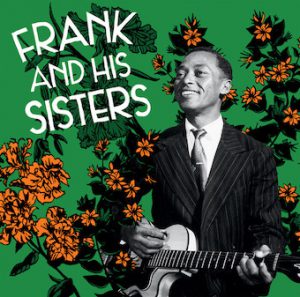 A1 Mwanangu Lala
A2 Kafo Mshiki
A3 Kokoya Mdu Meku
A4 Nimechakaa
A5 Nisamehe
A6 Shida
B1 Sharu Shechisia
B2 Efo Kulale
B3 Tuwe Sawa
B4 Mashamshan
B5 Beba Jiwe
B6 Nakusalimu
Guitar, Vocals, Written-By – Frank Joseph Humplick
with 8-page color booklet with photos, interviews, and bilingual lyrics.
The world's first collection of gorgeous pop songs from Frank and His Sisters, a family band from Moshi, Tanzania. Formed in the early 1950s by Frank Humplick, Thecla Clara and Maria Regina, the trio recorded and toured throughout East Africa and issued a string of instant classics, capturing fans with their beautifully harmonized singing, clever lyrics, and Frank's stunning guitar work. Imagine the fingerstyle finesse of John Fahey with a pure pop melodicism, combined with the family harmony of groups like The Carter Family, The Roches, and The Beach Boys, set in the golden age of Tanzanian music!
Frank composed many of his songs while working the land on his beloved tractor (really), and once instigated a house-to-house search to destroy all copies of his record "Yes/No" due to its politically subversive lyrics. He went on to record and tour with the Jambo Boys band before retiring from the music industry in the early 1960s, to focus on his passion for agriculture. But his favorite songs were always the ones he created with his sisters, and we are proud to present 12 of their best.
Previously only heard on extremely rare 78 rpm discs and Tanzanian oldies radio, this album collects the trio's finest songs, lovingly restored and remastered. We love this music so much that in late 2018 we traveled to Tanzania to meet Frank's family and collaborate on this album. The result is a colorful 8-page booklet featuring complete lyrics in English, Swahili and Chaga, as well as previously unpublished photographs, extensive interviews and anecdotes, and a biography by Tanzanian musician and radio host John Kitime. All tracks fully licensed from the Humplick family. (メーカーインフォより)