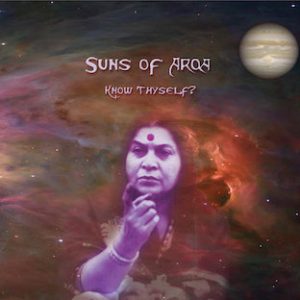 SUNS OF ARQA are one of the greatest behind-the-scenes pioneers of World Beat, Downtempo, Ambient and Electro-Dub. Sonic genius Michael Wadada created SUNS OF ARQA in 1979. Finding inspiration around the globe, they set out to interpret indigenous, tribal and classical folk traditions. The result is a deeply spiritual vibration that merges cultures, faiths and musical genres.
In these times of unprecedented change and impending uncertainty suns of arqa have been called to bring musical solace to the people with their latest cd release 'know thyself?' – a stunningly beautiful ambient album comprised of 4 rarely heard indian ragas.
produced by michael wadada, the mystical and enduring founder of suns of arqa, and featuring bansuri master raghunath seth, 'know thyself?' instantly transports the listener into a delicate liminal realm laying somewhere between ancient india and the western worlds. soaring on a sea of hypnotic dub grooves, raghunath seth's sublime bansuri narratives reveal panoramic glimpses of timeless vistas while gently persuading the mind to let go of the mundane. the result is an uplifting, devotional and deeply meditative experience.
'know thyself?' picks up where their previous interchill album, 'cosmic jugalbandi', left off and demonstrates yet again why the suns of arqa have remained one of the longest-standing pioneers of the world-fusion genre. after releasing 35 albums over the course of 30+ years, this latest creative offering from wadada is an authentic interweaving of east and west and is well-deserving of a place in anyone's music collection. warm, relaxed and trance-inducing, the music of the suns of arqa invites you into the spaces within silence to know thyself.
〜メーカーインフォより
1. Natbhairav
2. Noor Sarang
3. Nagaswarawali
4. Narayani