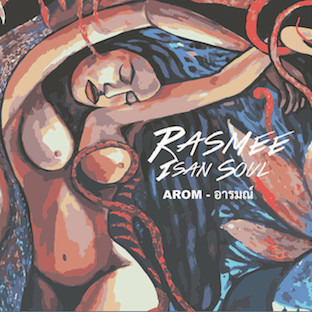 既にレアーです !! ラスミーの手元に残っていた盤を数量限定にて送ってもらいました。しかも今回入荷品は本人のサイン入り!
タイ北東部、イサーンのハートをオルタナティヴに歌い上げる注目の女性歌手、ラスミーの2017年末の作となります。モーラムやルークトゥンの歌い口、節まわしというものを強烈に感じさせながら、時にフォーキー、時にファンキーなフリーフォームなギター・バンドを背後に強烈なヴォイスを放ちます。一度聴いたら、忘れられませんねえ、いろんな意味で。
ジャケットの絵はラスミー自身が描いたそうです。
1.Emotion (Arom) 08:41
2.Little Girls (acoustic) 05:38
3.The Beauty of Loneliness 07:06
4.Boonreun's Love Song 05:16
5.Free Beauty 05:28
6.Sin and Virtue 02:28
7.Little Girls (full band) 06:09
8.Captured by the Nib of a Pen 06:42
---
This is Rasmee's second album. It was self-released on 27 December 2017. It fuses Northeastern Thai traditional music with other styles such as Thai Luk Thung music, African beats, blues/rock and pop. In April 2018, the song "Little Girls" was nominated for Best Recording of the Year and Rasmee Wayrana received the Best Female Artist of the Year award at Thai national "Season Awards".
Rasmee is a singer and song writer from North East Thailand. She began singing at the age of 5 with her father, founder of Jariang band (Khmer folk singing). At the age of 13 she joined the local band in Isaan region. Her music is the unique mixture of traditional Mor lam-Jariang cultures with Soul.
All songs written and composed by Rasmee Wayrana and Satukan Thyatira.
Rasmee Wayrana (vocals)
Satukan Thyatira (guitar)
Attasit Kongmongkol (percussion)
Petchsuwon Wannachodok (drums)
Chawanat Kanthula (bass)
Tontrakul Kaewyong (Isan traditional instruments)
Narisara Sakpunjachot (traditional fiddle)
Nattapong Napong (Isan traditional instruments)
Thiti Verawat (sound engineer – recording, mixing and mastering)
Sarunya Verawat (sound engineer – recording, mixing and mastering)
Recorded, mixed and mastered at Studio 28 (Bangkok, Thailand) and Dynamic Studio (Bangkok, Thailand)
〜RERELASE INFORMATION より