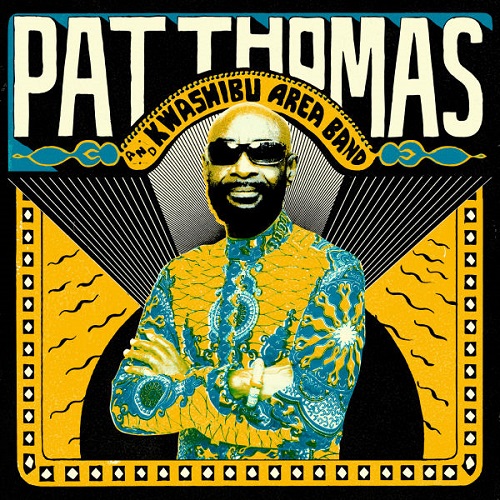 "I'm an afrobeat drummer but Pat Thomas is highlife. That is what he does so well." Tony Allen
Strut are proud to announce the brand new studio album by one of Ghana's all-time great vocalists, "The Golden Voice Of Africa", Pat Thomas, in conjunction with the Kwashibu Area Band led by multi-instrumentalist Kwame Yeboah (Cat Stevens, Patrice) and saxophonist Ben Abarbanel-Wolff (Ebo Taylor, Poets of Rhythm).
Hailing from Kumasi, Thomas had lived with highlife legend King Onyina from a young age before working with Ebo Taylor in two of Ghana's great 1960s highlife big bands, Broadway Dance Band and Stargazers. They would collaborate regularly, Pat contributing vocals to Ebo's solo albums and Ebo arranging horns for Pat's songs. Both would become a mainstay of the '70s and '80s Ghanaian highlife, afrobeat and afro-pop scenes, hitting big with the Ghana Cocoa Board-sponsored Sweet Beans band. Fela Kuti's bandleader, drummer Tony Allen, would record a session with Sweet Beans in Kumasi in 1975 (as yet unreleased). "Highlife was our music," Pat remembers. "People like Ebo and I modernised it, made it more relevant to our day. We took the Kwa music of Kumasi and other local styles and added Western elements." With his distinctive flowing vocal style, sung in Fanti and Ashanti Twi dialect, Pat became established as one of Ghana's biggest musical draws.
During the '80s, Pat continued to stay close to highlife and, by the middle of the decade, had become the biggest star in the emerging "burger highlife" scene involving recordings produced in Berlin and Hamburg and exported to Ghana. Together with guitarist George Darko, his output added to the rich mix of cultures making the global reach of highlife possible.
Recorded in Accra and mixed at Lovelite Studios' analogue HQ in Berlin, Thomas' new album marks over 50 years making music and reunites him with old friends: Ebo Taylor provides horn arrangements, Tony Allen contributes drums to several tracks, Osei Tutu (Hedzolleh Sounds) plays a memorable trumpet solo and prolific 1970s bassist Ralph Karikari (The Noble Kings) also features. Younger generation stars appearing include bassist Emmanuel Ofori, percussionist "Sunday" Owusu and Pat Thomas' daughter Nanaaya, an acclaimed vocalist in her own right.
The album features new full band arrangements of original '80s Thomas classics 'Gyae Su', 'Odoo Adada' and 'Mewo Akoma'. Abarbanel-Wolff explains: "By the mid-1980s, Ghanaian music had started to use digital production and the heyday of the "golden era" was over. With this album, we wanted to continue the tradition of the late '70s sound and bring the roots back." Kwame Yeboah continues, "We had to create our own buzz, keep the sound totally real – there are no digital, machine or sampled sounds here." – New compositions also feature, including the superb, yearning 'Me Ho Asem' and the infectious afrobeat jam, 'Odoo Be Ba'.
(LABEL information)