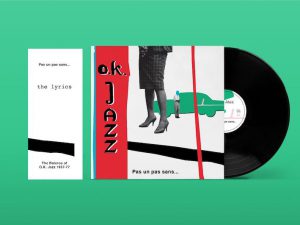 限定7インチ・シングル付で再入荷しました!
おしゃれなジャケじゃないですか、間違えて?おしゃれなジャズ・バーかなんかでかけて欲しいッスね!それにしてもプラネット・イルンガ、よくもまあ次々と未復刻曲を探し出してくるものだと、関心しますが、>"ロニンギサ・イヤーズ" 1956-61 2LP〜>"ラ・ルンバ・ドゥ・ミ・ヴィーダ" 2LPに続くOKジャズ復刻シリーズの第3弾は、1957−77年音源によるキューバ系 "ボレロ" のレアー曲に的を絞った内容ということに。は〜、こんなにボレロやっていたんですねえ…。
その、キューバ音楽への傾倒というと、グラン・カレとその楽団、アフリカン・ジャズがまず頭に浮かびますが、もちろんOKジャズもしかりですね。こんなにボレロも吹き込んでいたんですからね、その辺、ルンバ・コンゴレーズを紐解く上でしっかり押さえておくべきでしょうね。とは言え、やっぱりエレキギターとサックス(or クラリネット)、そしてベース、パーカッション類において、リンガラ語で歌われるそのボレロは、キューバ音楽のそれとは風合いを異にしているのも確かで、このボレロの数々を聴いていると、OKジャズ、ことにフランコの音楽性はキューバンをなぞるというよりも、特に歌のあり方において、後年の変化発展の土台をキューバンに求めようとしていたとも感じます。当然、実際の演奏スタイルとしてのキューバ音楽に、それなりに固執したアフリカン・ジャズとは一味違うのも確かでしょう。
その辺を鑑みるに、前編集盤 "ラ・ルンバ・ドゥ・ミ・ヴィーダ"にも言えることですが、なぜ今まで、ここに並んでいるボレロ〜しいてはキューバ風ナンバーが、LPなりCDなりで復刻されなかったかといえば、後年の選曲者がOKジャズのイメージからすると古臭い、と感じたからじゃないでしょうか、きっと…。
が、古臭いの大歓迎!かえって嬉しいという当店顧客の皆さんにおきましてはバッチリの内容、キューバンに交わるコンゴの歌心、キッチリお楽しみいただけるんじゃないかと思います。
After the double LPs 'The Loningisa Years 1956-1961' and 'La Rumba de mi Vida', released in 2017 and 2020, Planet Ilunga writes a third chapter in honoring the oeuvre of Congo's most legendary band O.K. Jazz. This new compilation 'Pas Un Pas Sans… The Boleros of O.K. Jazz 1957-77' is a selection of songs from what is one of the most unique and passionate music genres on earth, the Congolese bolero.
Of all Congolese bands venturing into the bolero, the O.K. Jazz orchestra is by far the king of this musical style which originated in the late 19th century in Cuba. In its nearly forty years of existence, the illustrious band released dozens of boleros, with beautiful compositions, mainly by Franco and Vicky, and occasionally from Kwamy, Edo, Simarro and Mujos among others. The slow form of the bolero allowed Franco, who said in various interviews that he loved all forms of 'slow music', to express his most profound soul stirrings and create a style of his own. With the suave voice of Vicky and the breathtaking and dramatic guitar touch of Franco, O.K. Jazz was able to capture the true essence of the bolero. Franco's passion for the bolero has certainly contributed to his nickname of 'Franco de mi Amor', especially among his female fans.
The favorite theme in the bolero songs of O.K. Jazz was, without doubt, the joy and pain of love, but it also touches on friendship, city life in Kinshasa, laments, politics and even advertising for a shoe brand like the remarkable 'Pas Un Pas Sans Bata'. This song and the universe of this particular brand, which was very popular in Congo in the fifties and sixties, inspired us throughout the long process (six years) of making this album.
All of the songs, except one, were restored and remastered from the original 45 rpm or 78 rpm release. The selection chronologically presented here consists – as always – for a good part of songs never reproduced after their original release. This Planet Ilunga release would not have happened without the contributions of many connoisseurs, fans and collectors of Congolese rumba. A special mention goes to Christian Ongoba and 'Messager' (Mbokamosika.com) for the solid work in transcribing and translating the lyrics; Yves Luambo Emongo and Julien Longomba for the support; Stefan Werdekker for his help in selecting and providing a lot of songs; Revue Noire for the use of the Jean Depara photos; and Zoi Sakka for the love, ideas and care in putting this album together.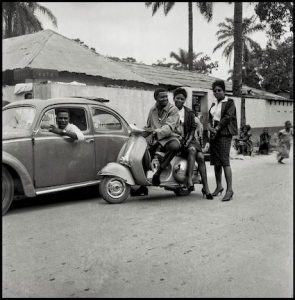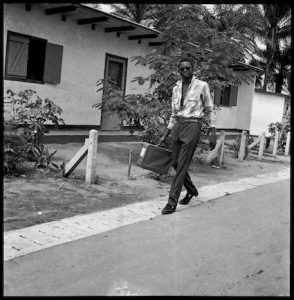 LP 1
A1. Kenge Okeyi Elaka Te (Franco – Loningisa 204) (1957)
A2. Nakobeta Yo Mabe (Franco – Loningisa 305) (1961)
A3. Pa Roger Na Doli (Franco – Surboum African Jazz O.K. 03) 1961
A4. Godo Pauline (Kwamy – Surboum African Jazz O.K. 19) (1961)
A5. Bobongisa Congo (Franco – Surboum African Jazz O.K. 36) (1961)
A6. Cherie Maite (Isaac – Surboum African Jazz O.K. 63) (1962)
A7. Bazuki Batunaki Ngai (Franco – Cefa 207) (1962)
B1. Nakopesa Yo Etumbu (Kwamy – Cefa 208) (1962)
B2. Ngai Oyo Lia Ngai (Franco – Cefa 250) (1963)
B3. Da Da De Tu Amor (Franco – CEFA 252) (1963)
B4. Yeba Nameki Komeka (Vicky – CEFA 262) (1964)
B5. Biloko Bimati Ntalo (Franco – Pathe EG 763) (1964)
B6. Niongo Na Yo Nakofuta (Franco – Pathe EG 812) (1965)
B7. Mosika Okeyi Zonga Noki (Franco – Pathé EG 947) (1966)
LP 2
C1. Veronica (Edo – Pathe EG 958) (1966)
C2. Pas un Pas Sans Bata (Franco – Bata Tropical) (1966)
C3. Coco Babengi Ngai Poison (Vicky – Boma Bango 34) (1967)
C4. Si Vous Passez Par La (Arrangement O.K. Jazz – Pathe PF 11.541) (1968)
C5. Tembe Ezali Mabe (Franco – Pathe PF 11.564) (1968)
C6. Ngai Tembe Eleka Ngai (Franco – Pathe PF 11.587) (1968)
D1. En Memoire De Bavon (Vicky – Pathe 2C 006 – 15.112 M) (1970)
D2. B.S.K (Lo-Kanga Lwa-Djo Pene Lwambo Makiadi – Editions Populaires 120) (1973)
D3. Tolinganaki Toboyanaki (Franco – Editions Populaires 041) (1977)
D4. Je T'attends (Franco – Pathé EG 930) (1965)
*Double LP release with 32-page booklet / Lyrics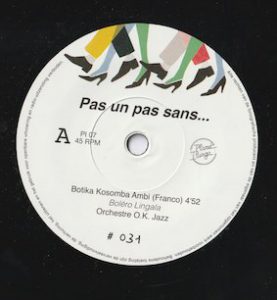 +7inch Single
A-BOTIKA KOSOMBA AMIBI – ORCHESTRE T.P.O.K. JAZZ (FRANCO) 4:52
B-YO SE QUE SOY – ORCHESTRE NEGRO SUCCES 3:09
*1967-68年音源2曲収録の限定7インチ・シングル!