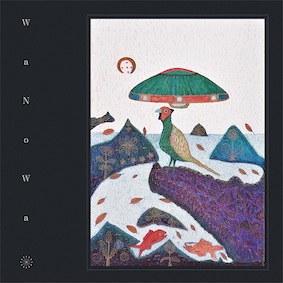 日本の一部の音楽好事家で長年話題になっていたカルト作品が初の正式音源化
衝撃的かつ幽玄な神秘のサウンド
待望のVinyl化!
奈良県山添村の障がい者支援施設『大和高原 太陽の家』の利用者12名による、単音打楽器<クワイヤーチャイム>の演奏。
一音一音、無作為に奏でられた瑞々しく透明な音色は、連なりながらやがて美しい音楽に姿をなす。
これほどまでに純真無垢な音楽がほかにあっただろうか。
この作品は、聴く者の潜在意識へ奥深く浸透する、究極の即興アンビエントである。
Chee Shimizu

▲▼▲▼▲▼▲▼▲▼▲▼▲▼▲▼▲▼▲▼▲▼▲▼▲▼▲▼▲▼▲▼▲▼▲▼▲▼▲▼▲▼▲▼▲▼▲▼▲▼▲▼▲▼▲▼▲
Artist : Wa No Wa
Album title : Wa No Wa
SIDE XX
JYOUKA (19:15)
SIDE XY
TAIDOU(16:45)
SIDE YX
MEISOU (12:26)
SIDE YY
SEIMEI NO KI (14:50)
Musicians : C Andou. Y Ootsuki. I Okuda.T Okumura. H Okumura.
M Kitanoi. Y Tokugi. K Nakatani.Y Hayashi.
Y Hisada. F Yabuno.K Fujita.
Producer : Youhei Yamaura
Recording.Mixing.Mastering : MIROKU
Re:Mastering : Sinkichi Kadoya
Vinyl Cutting : Katsutoshi Kitamura
Artwork : Hideo Furutani
Design : QOTAROO
Executive Produce : Takashige "JAKAM" Miyawaki
Co-Produce for Vinyl : Chee Shimizu
Production coordinator for Vinyl : Yuki Karube (TUFF VINYL)
Investment Cooperator : Yamatokougen Taiyo No Ie
http://taiyouselp.blue.coocan.jp/taiyou/
Cooperation : Able Art Company
All rights of the producer and of the owner of the work reproduced reserved. unauthorized copying, hiring, lending, public performance, broadcasting and making transmittable of this record prohibited.