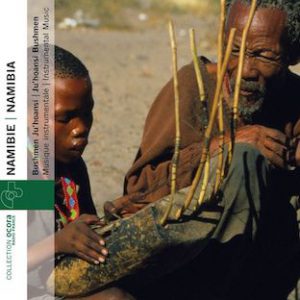 南西アフリカ、大西洋に面したナミビアの、世界最古の砂漠〜乾燥地帯に住まうブッシュマンの様々な楽器演奏(ジャケをご覧あれ、木の切り株に弦を張ったような楽器などなど)と歌声(歌というのではないのかも知れませんが…冒頭曲はアイヌの女声歌にそっくり、ピグミーの合唱をもっと素朴にしたような曲も)が収録されたCDです。とにかく繊細です。満天の星のさざめきと乾燥地帯を渡る風の音?
*Recorded by Emmanuelle Olivier in several Namibian villages, 1995, 1998, and 2001.
*Vocal selections sung in Geriku (track 18) and other unidentified languages.
*Principally instrumental music of the Ju'hoansi bushmen of Namibia, played on traditional instruments; some selections include vocals.
*Program notes and notes on the instruments by Emmanuelle Olivier in French and English (20 p.) inserted in container.
1.Python (4:29)
2.Le lac de Nllaru = Nllaru Lake (3:11)
3.Zone conservatoire = Conservancy zone (7:28)
4.Mangetti (3:54)
5.La mouche = The fly (1:11)
6.Le benjamin = The youngest brother (3:14)
7.La pluie fine = The fine rain (1:59)
8.Arc de chasse = Hunting bow (1:26)
9.Mangetti (3:13)
10.La formation d'un chamane = The training of a shaman (6:10)
11.La police des Noirs = The Black police (3:22)
12.Arc de chasse = Hunting bow (1:46)
13.Les femmes = Women (3:04)
14.Baqu (2:18)
15.Chemin fréquenté = The busy road (1:36)
16.Le buffle mâle = The male buffalo (3:09)
17.Arc musical = Musical bow (1:47)
18.Je veux une femme = I want a woman (2:12)
19.Le benjamin = The youngest brother (3:30)